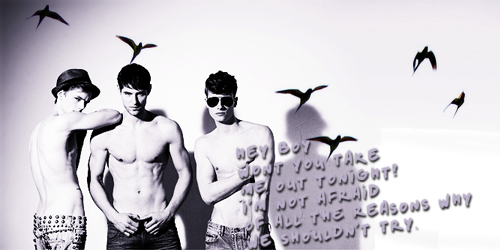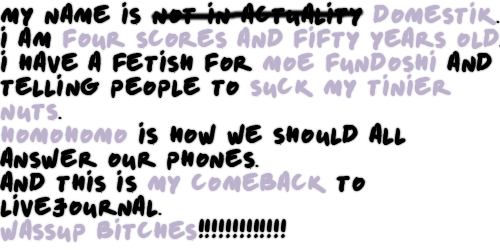 Current Mood:

ಥ_ಥ
GETBACKERS BLOGCREW ↓
Akabane Kuroudou ⇒
domestik
Clayman ⇒
paperpieces
Fuuchouin Kazuki ⇒
loveholic18
Fuyuki Shido ⇒
eliminate
Kakei Juubei ⇒
yankumi
Kyouji Kagami ⇒
likeatruck
【 GETBACKERS! BLOGCREW ☆
YOUR CHARACTER HERE
】
SWITCH BLOGCREW ↓
Hiki Masataka ⇒
pinewood
Kurabayashi Hal ⇒
domestik
Akimune Narita ⇒
likeatruck
█ SWITCH! BLOGCREW ¤
YOUR CHARACTER HERE
█
SILVER DIAMOND BLOGCREW↓
Chigusa Senroh ⇒
domestik
• SILVER DIAMOND! BLOGCREW ◆
YOUR CHARACTER HERE
•
Come join, claim, and spread the crack!love. One character per person. D: HOSNAPS! And any character without a username next to it = FREE! AVAILABLE! GRATIS!
Current Mood:

bouncy

Current Music:

"Wakare no Uta" by the pillows
Current Mood:

curious

Current Music:

"Larva" by FAKE?
Anonymous, friends, non-friends, stalkers, weirdos, freaks, and wee cult followers are all allowed to respond to this post with anything (read: nearly anything, hah). Please note that if you've a hankering to friend me--THIS IS NOT the post to comment in. *points at the above post* Comment there instead.

But enough of that. Go on, then. Have at it, you fiends. Just please, use some discretion and not comment with things that may likely make me run screaming from the monitor and/or to the bathroom to upchuck my breakfast, lunch and dinner. :D;

01:20 PM: OMFGAAAWD! I needed to just come back and say--SHIZ! YOU PWNZZZZZ!!111!! teh WINZ!!!1111111!!!!!!!! XDDDDDDDDD I would've replied but I didn't want to break your flow of pwning my comments pages. Yes. PAGES. HAAHAHAHAHA! XDDDDD I LOVE YOU SO HARDCORE. <333333 x infinity + 1 4eveeerrrssss!! BAHAHAHAHAHAHA.

05:11 PM: Hoookaaay. Dude. We're at 500+ (luckeh numbah 500 being ZEE CLAIRESTER! :o) right now and it's only been HALF AN EFFIN DAY. xD; <3333 FOR YOU ALL.

07:43 PM: Sweet TPTB. In less than three hours from the 500 edit and we've reached 1000 comments and that was by zee insane HAMU with the help of my equally insane twinny, LONNIE. Oh man. Ya'll are crazy. XDDDDDDDDDDDDD;; So much lovelovelove for you both. <3 I'm super glad I threw in the + after the 1000 in my banner now....
Current Mood:

bouncy

Current Music:

"Astrosexy" by m-flo loves CHEMISTRY